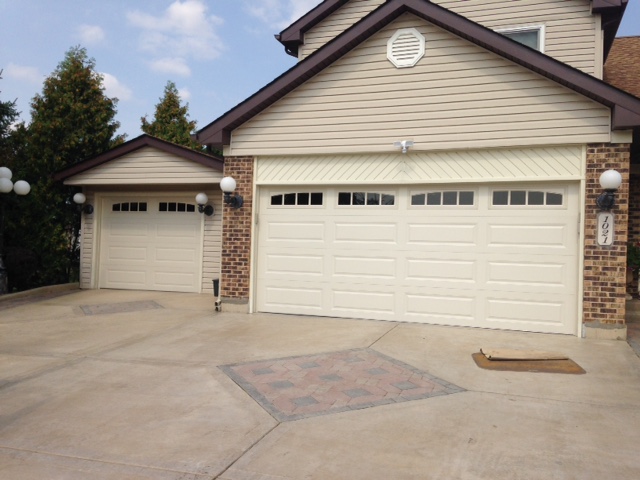 New Garage Door Installation Company St Charles IL, Kane, DuPage, NW Cook
Get new garage doors and openers at the best prices! Honest service. Free estimates and warranty on parts. Serving St Charles, DuPage, Kane, NW Cook County.
New garage doors and remotes
We provide you new garage door installation and new remote openers with quality service you can trust.
Complete line of garage doors from all major manufacturers
Competitive pricing
18 month warranty on parts and labor
Serving DuPage, Kane, Cook, Will, McHenry, Lake Counties
Phone: 847-888-8833
Buying a new garage door but not sure where to begin?
A garage door isn't something homeowners buy very often, so you may not know how to approach the process. To avoid the ups and downs of the unknown, this is what you should keep in mind.
1. How much do the most popular garage door styles cost?
Every house has a bit of character, so highlight it with the perfect garage door. Do you want a classic look or are you looking for something more contemporary, or even rustic? Determining your house's style will help focus your options.
Once you figure out the look you're going for, evaluate these most popular garage door styles and see what fits in your budget.
Steel doors offer the broadest range of color, insulation, and price options. These maintenance free doors come in anything from an entry level, single-layer, non-insulated door up to a premium three-layer, 2-inch polyurethane insulated door. The average cost for a 16-by-7 double door: $850 to $2000.
2. Should you buy an insulated garage door?
Most garages aren't heated, but your garage door still impacts your home's energy efficiency. Construction materials and insulation technologies for garage doors have improved significantly over the last five to 10 years. Today's doors provide a tighter seal against the facade to keep out the elements.
If your garage is attached to the house, your best bet is to purchase an insulated door, especially if there's an occupied room above the garage. It will help reduce both noise and the utility bills.
Also, consider the direction your door faces. If it's baking in the sun all day or getting blasted by the wind, an insulated door will better regulate the temperature inside.
We offer R-value insulated doors from 8.5 to 16.
3. What else do I need to know before buying a garage door?
If you've never purchased a garage door before, here are some common misconceptions:
Buying a garage door opener is a separate purchase — not included in the price of a new garage door. However, most garage door installation companies also sell openers.
Interested in carriage house doors, but think you lack the room for doors that swing open? Not to worry! Carriage-house style doors only look like they swing open. They actually move up and down on a standard track, just like every other garage door.
Be sure to ask if the cost of the garage door includes installation. Most likely it will, as less than 2% of garage doors are installed by homeowners. The precision required to install a door, makes a professional installer a requirement.
PHONE us today: 847-888-8833